Fulfilment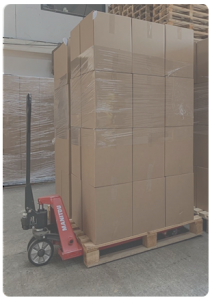 Make use of our fulfilment services for your Goodiebags. Together with our logistic partners, we ensure that your Goodiebags with the right content arrive on time at their destination. This could be at one location, multiple locations, or perhaps you want them delivered to everyone's home. Everything is possible!
If you've already arranged bags and content but lack the manpower to pack them and manage the shipping, you can choose to let us handle just the fulfilment part. After all, we are fully equipped for this and have all the necessary packaging materials, such as shipping boxes.
Filling goodiebags


We're happy to take fulfilment off your hands! It's complex work. Filling 25 Goodiebags might be manageable, but when you're talking about 500 or 50,000 Goodiebags, you need a professional logistic approach because:
Not every Goodiebag may have the same content;
You have many items in the Goodiebag, which requires focus during filling;
An extra check on the expiration date of food items is essential;
The Goodiebags need to be sent to different locations for further distribution.
Not everyone readily has the manpower to pack the Goodiebags. You quickly need a team of people to handle and coordinate this logistic process. With its years of experience, BagOffice can act swiftly and ensure that your packages are out the door in no time. Whether it's a mailbox or gift box, printed or unprinted, we can process all types of packages for you.

Storage of Goodies
The Goodies for a Goodiebag are, of course, delivered and stored in advance. Soon you're talking about pallets that need to be placed somewhere. You probably don't have the space for this, nor is it desirable to rent a space specifically for this. This is also part of our fulfilment offer, and BagOffice is happy to take it off your hands. We can store your Goodies in our warehouses. We handle the receipt, counting, and registration in the inventory list. This way, you're sure everything is safely and thoroughly checked and ready to be filled.
Packaging
Depending on the content of your package, we determine which packaging material is needed for your project. Perhaps you're specifically looking for sustainable packaging material, or you'd like a printed luxury gift box or shipping box; everything is possible. We guarantee that your shipment will leave our premises safely and well-packed.
Costs
We offer our fulfilment services at the most competitive price possible. Because we handle many projects and thus fill many Goodiebags, we can work very efficiently, and the standard costs that apply to starting each project are shared.

Carriers
We ensure that your Goodiebags arrive at the right location. Depending on the quantities and destination, we provide the appropriate transport. Do you want the Goodiebags delivered to everyone's home? That's also possible. We collaborate with GLS, ensuring the Goodiebags are delivered quickly and on time. Or can it be sent as a mailbox package? Then we offer it directly to PostNL.
International
Are you an international company or organizing an event with participants spread worldwide? That's no problem. We ship internationally and are aware of all regulations regarding sending packages abroad, including Brexit!
Tell us what you want filled, packed, and shipped, and we'll provide you with a customized quote.
Contact BagOffice