Goodiebags, what are they?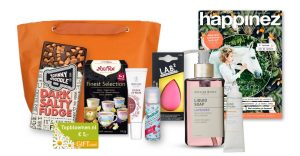 What are Goodiebags? A Goodiebag is not a bag filled with flyers and useless stuff, but then what is it? The Goodiebags of BagOffice are an experience. A surprise. A gift. A must-have you don't want to miss. Goodiebags from BagOffice are original and relevant. Tailor-made for the target group, location, theme and the moment. With a variety of different useful products. Therefore, a BagOffice Goodiebag is always well received. Sales stimulating and generates gratefulness. Smiles guaranteed. The cherry on the cake!
As you will see, BagOffice sets high standards for the content of the Goodiebags. And not just for the Goodies, also the Bag itself is part of the experience we want to achieve.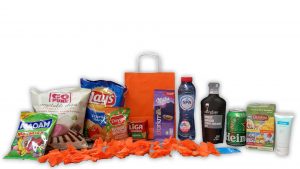 What's in the goodiebag?
The content of the Goodiebag depends on the event or the occassion and therefore the target group can be different every time. When you order Goodiebags with us, we first ask you about your wishes: Wat is your goal? Who is your target group? When do you plan to hand out the Goodiebags? Should we deliver the Goodiebags to your home or directly to the event location, etc.
When we have your wishes clear we write an offer with quotation for you. After your approval we match our brands with your target group and start working on your Goodiebag. Check out our cases for a good impression and to understand why we are the market leader!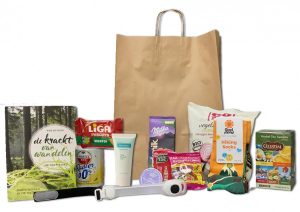 BagOffice from A tot Z!
'I want to have Goodiebags for my event, but it's so much work!' We heard this very often and this is the reason why we exist. We take over this time consuming and difficult work from you! From A to Z, for 10 or 100.000 Goodiebags. The content and all logistics (fulfilment) and transportation.
We take care of everything!
The Goodies.

Through our network. Our suppliers and brands with whom we are in touch ever day about fun and suitable Goodies. 

Arrange additional items.

You already have products for your Goodiebag but you are missing a few things to make it complete. We can arrange help you with this additional items.

Arrange the bags.

Fabric or paper bag. With logo or picture. We love to help you! Or arrange everything for you. You decide!

Fill the Goodiebags.

No need for extra hands, no need for storage space. Let us fill those bags.

Transport to location.

We bring all Goodiebags and/or additional items to the right destination or to everyone's home.

Hand them out.

During the event we love to be there to hand out the Goodiebags. If you want that of course.

We promote through social media.

Before, during and after the event we use all our social media channels to gain extra exposure for you. 
CONTACTFORM